Bike The White Roads of Tuscany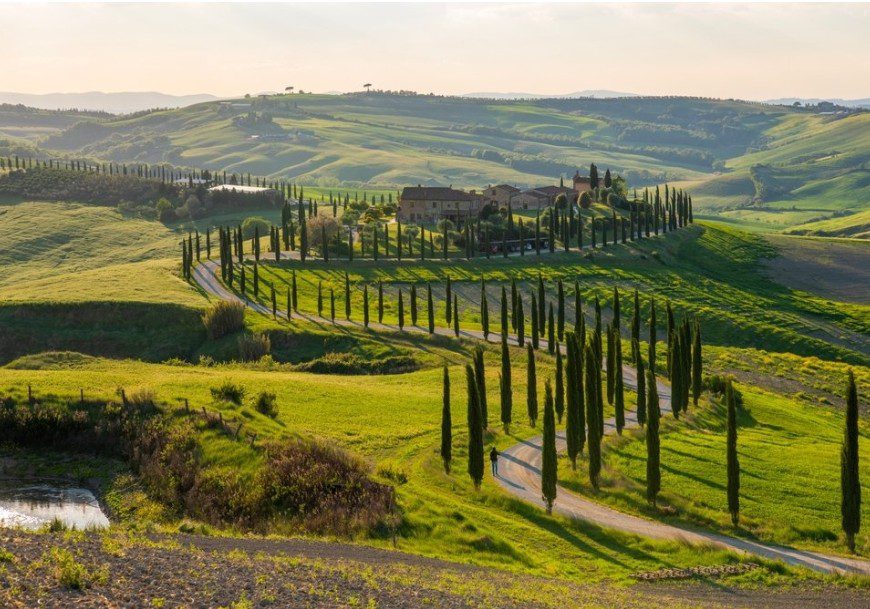 Biking the White Roads of Tuscany -  Strade Bianche
E-Bike Tour - guided
June 2 - June 8, 2024
Level of Difficulty: Easy, 37 mi. / day
$2,269 per person double occupancy
Single private room $2,839
Group size 8 - 12 
6 nights, 4 days of riding, 1 rest day for sightseeing in Sienna
Non-riders Welcome
Join us in Tuscany, the birthplace of the rennisance. Cities within this region include: Florence, Sienna, Pisa and Lucca. Artists from the region include: Leonardo da Vinci, Raphael, Michelangelo, and Donatello. Tuscany's best-known wine regions include Brunello di Montalcino, Chianti Classico and Vino Nobile di Montepulciano, as well as Vernaccia di San Gimignano and Carmignano. We'll have 4 days of riding with a rest day built in. As an alternative to the rest day, we can organize a half or full-day self-guided ride. We'll be riding on a mix of surfaces, approximately 50/50 pavement/gravel, including white limestone gravel and dirt. In Italian, the "white roads" of Tuscany are referred to as "strade bianche." These roads are in good condition and are under the protection of the Tuscan Region and the European Union. Each spring cyclists from all over the world converge on this area to compete in the Grand Fondo Strade Bianche 138.5 km.  The Tuscany area consists of rolling countryside, cypress lined roads, vineyards galore, and golden fields of grain. Think quiet meandering country roads lined with cypress trees, paintings by van Gogh, virgin olive oil, sunflowers, pasta, and plenty of Chianti. Our hotel has a pool, bring your swimsuit.
6 nights lodging with breakfast

Tour guide, bike mechanic, sag wagon

Hotel with air conditioning, pool and restaurant
Trip Cancellaton Insurance

Tip for Guides and hotel staff
Riding the Strade Bianche in the heart of Tuscany, a 50/50 mix of white gravel and paved quiet country roads

Tuscan Cuisine - wild boar, pheasant, Fiorentina steak / Tuscan Chianina beef, pecorino.

Wine tasting at small family owned winery

Viewing incredible medieval architecture
Average daily riding distance: 27 - 40 miles. No problem, you can do this as we will all be on electric bikes!